FlashingBoards
Marker Pen Set
Triangular Easel
Battery
Decorate board
Double-Sided Neon LED Board
LogoBox Flashing Board
LED Sign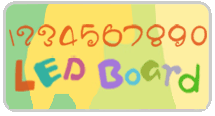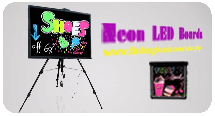 FlashingBoards Description
Freedom to re-write your message as often as you wish!
Our Flashing LED Board is not like any ordinary Menu board, Advertising Signs, LED Neon Signs, Business Signs, LED Message Writing Board.
By using our special Fluorescent markers your message will shine bright letting your customer know any details you want regarding your business. To change your message is a breeze. Just erase your old message with a soft cloth or tissue and rewrite your new message. ................That simple!!
The Flashing LED Board is driven by LED light technology which is a low energy light source. The further advantages include economical to run, low power consumption and kind to the environment. Can be left switched on overnight working for your business while you're asleep. Furthermore, Light Emitting Diodes (LED) boasts extremely long life of up to 50,000 hours. So no bulb changing is required.
Comprising of several sparkling colors and numerous light functions, you can select a tasteful, yet very high impacting message in a bright static neon color. Or if you prefer Maximum attention with no holds barred, you can select the flash or alternating color function, which offers a fast, medium and slow speed setting.
The Flashing LED Board is extremely effective, even in daylight, but really excels in lowly lit and ambient settings, including outdoor cloudy and overcast conditions.
Whether you hang on the wall, position by your counter or till kiosk your visitors will not fail to be drawn to your eye catching message. Can also be hung outward on your shop window or door, where passers by foot, car or across the road will be instantly attracted by your publication. With a Neon message board more people will notice your business.