FlashingBoards
Marker Pen Set
Triangular Easel
Battery
Decorate board
Double-Sided Neon LED Board
LogoBox Flashing Board
LED Sign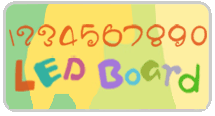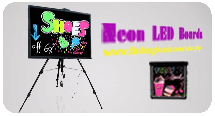 FlashingBoards Fluorescent Marker Set - B12070168-01
Description
Features:
Make your words indelible in your customers' minds, not on your dry-erase board.
With our fluorescent marker pens, your message is bold, bright, and easily replaced tomorrow with the change in your daily soup, markdown price, or child's schedule. Known as liquid chalk, this dry erase marker is perfect for list makers, jotter-downers, family-Corrales, students, entrepreneurs and organizers of all types. Used on glass, windows, or dry erase boards, your sign will help convert pedestrians, menu collectors, and window shoppers into customers and clients.
Yes, WRITE on glass, windows, dry erase boards, and other non-porous surfaces. Yes, USE them like normal markers; just shake first. Yes, ERASE with disposable tissues or cloth. But DO NOT use on blackboards or chalkboards or let children play with them unsupervised.
Specifications:
8 Colors per set: Blue / Green / Yellow / White / Purple / Pink / Orange / Red
Weight: 190g
Size: 0.18 inch wide strokes
How to use:
Shake well with cap on and remove cap in up-right position.
Press down tip for a few seconds until tip fills with ink.
Recap tightly after use and store in horizontal position.
Note: Please do not touch ink to your mouth, nose or eyes; keep away from children.
 Instant Quote