FlashingBoards
Marker Pen Set
Triangular Easel
Battery
Decorate board
Double-Sided Neon LED Board
LogoBox Flashing Board
LED Sign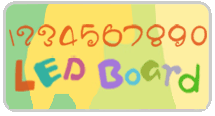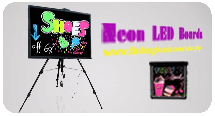 FlashingBoards - BFCA3523
Description
Features of the Flashing LED Board:
TheFlashingBoards LED Message Board is the latest in commercial promotions and caters to your marketing needs by allowing you to easily changeable content. This provides you with flexibility in the fonts, patterns, drawings, and other designs. The only limiting factor is your imagination. It is excellent for use in seasonal promotions, marketing festivities, boosting sales, showcasing discounts and special offers, grand openings, marking special events, and more.
Your message or announcement will not be missed with the flashing and color changing features, thus capturing the public's attention to boost sales.
Specifications:
Size of Board : 35"X23"
Surface: Made of rigid abrasion resistant acrylic board, with superb translucency for efficient lighting. Large firm writing area for unlimited creative choices. Easy to write-on and wipe-off. Durable for repeated use.
LED: Best-in-class, with light emission up to twice as bright as other products. Energy-saving, environmentally-friendly, extended longevity
Outer Frame : Fabricated from supreme quality of aluminum alloy. Galvanized for protection.
FlashingModes : Simple button control with 7 lighting LED colors. Various flashing modes, speeds, with multicolor combinations to grab public attention..
Portability : Lightweight but sturdy. Easy to carry and set up anywhere. Can be hung on the wall** or placed on a stand. Avoid moisture, rain, snow, and prolonged exposure to sunlight for outdoor location.
** please ensure safety of hanging due to the heavy weight
 Instant Quote